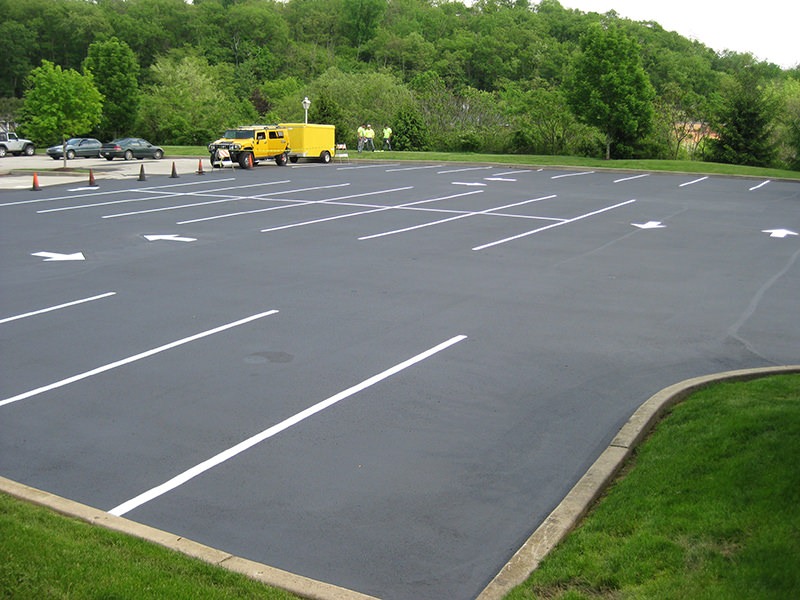 Having a paved parking lot, tennis court or basketball court is not enough.
It is necessary to add lines in order to establish boundaries and parking spaces, symbols to point out the proper direction of travel and words that help determine who has the right of way.
It is for these reasons that we at ASAP Asphalt Sealing and Paving take pride in doing line painting in Pittsburgh.
When it's comes to painting your newly paved surface, you don't want to just start laying lines down haphazardly. The area should be measured with accurate methods and tools and then, using those measurements, a scale drawing should be rendered. The drawing will be used to map out parkingline painting spaces, fire lanes, disabled parking and appropriate direction-of-travel symbols. Failure to plan out paint lines can result in:
Wasted space
Parking spaces that are too small
Inadequate space between the rows of parking spaces
Traffic jams and inefficient traffic flow
Increased chance of fender benders and more serious accidents
We are professionals, so we know how to efficiently map out a parking lot. We also know the standard measurements for parking spaces and the appropriate distance that should be between rows. We will make your lot with straight, parallel solid lines to give your property a clean, professional look.
Before any painting is done we will prep your lot so that is clean and ready to accept the paint. First, we will use a high-powered blower to remove leaves, stones, trash and other debris from the lot. This will ensure that all lines are solid both in color and continuity.  Once prepping is done, we lay down any necessary guides to insure accurate lines.
Every parking lot owner should be concerned about complying with the Americans with Disabilities Act (ADA) in order to make things easier for disabled patrons. Failure to comply can result in hefty fines and even lawsuits. We will work the appropriate number of disabled parking spaces with correct dimensions into the parking layout in order to make your business or property accessible to all members of your community.
We have an assortment of stencils to add symbols to roads and parking lots including:
Arrows to indicate direction of travel
The handicap symbol to designate disabled parking
Words that direct the flow of traffic such as Stop, Yield, Slow, etc.
Words to reserve parking spaces for visitors, residents or upper management
Words to reserve or restrict parking spaces for certain types of vehicles
Some lines or markings are better seen with certain colors of paint. The most common colors are yellow, white and blue but other colors may be available on request. In places that experience frequent snow during the winter, yellow paint will be much more visible that white.
Important lines such as those that establish boundaries, mark the edge of roads or point out some other safety issue need to be clearly visible at night. We can paint these lines with special reflective paint. We also can imbed raised reflectors into wet paint, which will hold them in place. You will save a lot of your patrons' front and rear bumpers by coating your curb and parking stops with yellow or white paint for increased visibility.
Curved and circular lines are often needed to follow the contour of a lane or to mark areas on recreational courts and tracks. We have the equipment to make perfectly curved lines. We can also make parallel double lines and equidistant broken lines.
We provide free budgetary estimates and maintenance plans ranging from 3 to 5 years. We also advise our customers on the best ways to keep their paint jobs in tiptop shape.
At ASAP Asphalt Sealing and Paving we have over 75 years of combined experience. We have many satisfied customers who trust us to do exceptional work on their roads, parking lots and recreational areas. Call us today and you will see why ASAP Asphalt Sealing and Paving is the best choice for all your line striping needs.