Meet The Front Line of our Asphalt Kickin' Crew. These are the guys responsible for making sure we deliver quality asphalt maintenance solutions.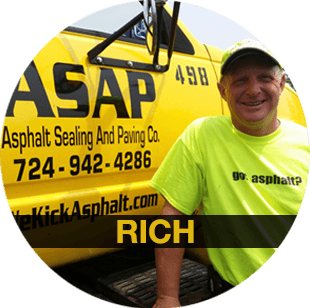 Rich Boals [Supervisor] is the Leader of the asphalt and sealcoating crews and is the one who oversees all projects. He has an expert eye for quality control, and will never cut a corner to get it done faster. Rich has been with ASAP, full time, for 6 years. His background is in supervising multiple crews at a time, and his leadership style is respected as well as followed. Rich is meticulous, can operate anything he gets his hands on, has a great mechanical ability, and an awesome sense of humor. Rich loves his Camaro, taking his 3 wheeler for a spin, and his Pug, Chelsea. ASAP is proud to have Rich Boals leading the team and Kickin' Asphalt!
Lou Mahramus [Foreman] is a huge asset to ASAP, and the asphalt kickin' team. He has been with ASAP for 7 years. His knowledge of sealcoating, asphalt paving, and catch basin repair are un-matched. His mechanical ability allows ASAP to keep the trucks and equipment running perfectly to complete our asphalt services. Lou has a background in business, mechanics, machine operation, truck driving and has been in the asphalt industry for more than half of his life. Lou is married to his beautiful wife, Clara, is a 'Pappap' to his grandchildren and his newest family member, Ava. Lou is a man who can be counted on to get the job done and drives a really cool truck! ASAP wouldn't be able to Kick Asphalt without Lou Mahramus!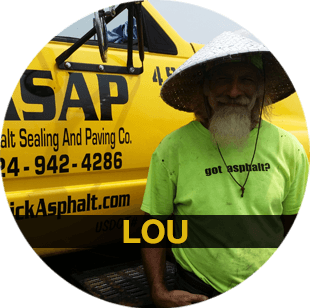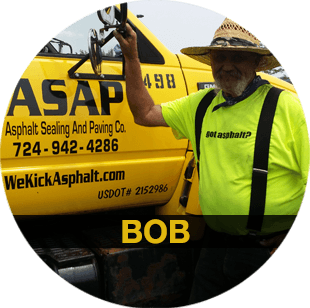 Bob Klinger [Foreman] is a highly respected member of the ASAP team. He has been with ASAP for 7 years. Not only is Bob an expert welder and fabricator, he can be trusted to efficiently operate any piece of equipment in the ASAP fleet. Bob has a background in a being a foreman and leading a team, operating machines, welding, fabricating, and concrete. Bob is blessed with a loving wife, Bernie, a beautiful daughter, son-in-law, and two handsome grandson's. Bob is a true tradesman, who ASAP would love to duplicate. But, there is only Bob, and ASAP is truly grateful to have him on the Asphalt Kickin' crew!
Tyrone Lett [Foreman] eats, sleeps, and breathes ASAP on a daily basis. He has been with ASAP for 7 years. He is the 'Good Will Ambassador' for ASAP, as well as a true leader in every sense of the word. His passion for his job, his respect for his superiors, and the true thirst for wanting the best for his company makes him one of a kind. Tyrone has a background in asphalt production, machine operation, asphalt sealing, and mechanics. Tyrone is a proud family man with his love, Virginia, and his children and grandchildren are the center of his world. His youngest son, Logan, is even in training to become an ASAP Operator one day. ASAP is lucky to have Tyrone on the Asphalt Kickin' Team!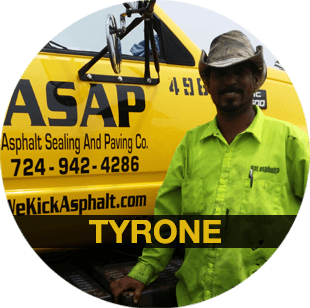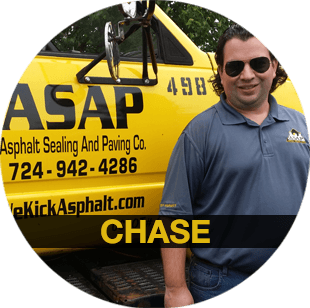 Chase Hemphill [Senior Estimator, Project Manager] is a true company man, a team player, and overall great estimator. He has been with ASAP for 7 years. Chase can be trusted with all aspects of the estimating process. From the initial phone call to the finishing touches, he will impress with his ability to build a proposal based on the customer needs. His project management skills are expertly executed and he is mindful of budget and customer concerns. He is a great teacher, very intuitive, innovative, witty, and his personality is a hit with the ASAP crew and customers. Chase has a passion for real estate, animals, and remodeling his house he shares with his beautiful love, Kristen. Chase is an integral part of the Asphalt Kickin' Team!